Oscar results -- February 2013
Best Picture: "Argo"
---
Winners: Mark and Tristen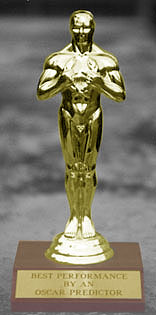 For a year with a lot of great movies in the running with no clear favorite, this was a fairly high-scoring year. First-timer Mark racked up 17 correct picks out of 24, a performance which has only been equalled twice (Marsha in 2010 and Donna in 2006) and surpassed only once by record-holder Donna in 2004 with a score of 19.
With 12 nominations going in, I think everyone was surprised that Lincoln took home only two Oscars (Actor and Production Design). Les Miserables and Argo each won three, and Life of Pi pulled in the night's highest total of four. The highlight of the evening, in an evening almost free of highlights, was probably the cast of Les Miserables performing a big number together. And host Seth Macfarlane didn't really help in the highlights department -- his reviews next morning ran from mixed to terrible.
Our Oscar contest was not much a horserace. Mark took an early lead by winning the first six envelopes in a row and, while both Marsha and then Donna each caught up with him a few times, he was in first place the whole night. He also nailed five of the six top categories, missing only Director, which in our group no one got right -- kind of a rarity for one of the important awards.
In the 17-and-under group, Tristen and Teghan were neck-and-neck until the very end, when Tristen pulled ahead by one. It should be noted that both Tristen and Teghan significantly outperformed their parents (eight and seven picks versus Ryan's five and Amanda's three)!
So for the fourth year in a row the Oscar will reside in Minnesota for six months, and for the fourth year in a row it will spend six months in the Metcalf household. Congratulations to the winners!
Thanks to everybody who played along this year. See you next year!

(Number of correct picks out of 24 categories)

17  Mark
15  Gary
15  Marsha
13  Donna
12  John
 8  Anna
 8  Grandma
 8  Jack
 8  Tristen
 7  Teghan
 6  Emily
 6  Erika
 6  Samantha
 5  Ryan
 3  Amanda
 3  Karen
 0  Brent

And totaling all the results of the past fifteen years, here are the standings, in order of percentage of correct picks:

71%   Mark        17 right out of  24
53%   Gary       194 right out of 364
52%   John       190 right out of 364
50%   Marsha     181 right out of 364
48%   Donna      174 right out of 364
43%   Grandma    155 right out of 364
42%   Zachary     36 right out of  86
38%   Amanda     140 right out of 364
38%   Lori        56 right out of 148
37%   Paul        82 right out of 220
35%   Samantha   129 right out of 364
35%   Anna       107 right out of 302
34%   Karen      122 right out of 364
34%   Ryan       100 right out of 293
34%   Lindsey     90 right out of 267
33%   Jack         8 right out of  24
31%   Emily      112 right out of 364
25%   Olivia      47 right out of 190
25%   Sean        12 right out of  48
23%   Erika       82 right out of 349
23%   Tristen     67 right out of 286
21%   Brent       30 right out of 144
18%   Teghan      31 right out of 169


---