Oscar results -- February 2012
Best Picture: "The Artist"
---
Winners: Anna and Tristen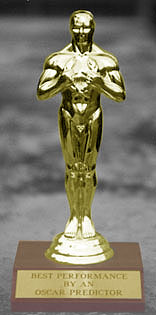 Another fun Oscar night. In Lincoln the Oscar partiers dined on tomato soup with mini-raviolis, grilled cheese sandwiches, and smoked salmon pizza with caviar ala Wolfgang Puck. (Turns out Teghan loves caviar!) In Minneapolis the menu included biscuits (ala Zach) and chorizo gravy (ala Marsha). In Sioux City, it was make-your-own-sandwiches ala everybody. So we all dined well!
How did the movies do? The awards seemed to be scattered out among several movies, and our own voting reflected that too. The Artist and Hugo tied with five Oscars each, though The Artist took home the bigger awards -- including Best Picture, Director, and Actor. Hugo won Cinematography, Art Direction, and the two Sound awards. If there was a recurring theme at all, it was France: The Artist, Hugo, Midnight in Paris, The Adventures of Tintin, Michel Hazavicius, Jean Dujardin... Billy Crystal hosted this year (for the 9th time) and did his usual extravaganza opening. Everyone seemed to think the show moved along smartly.
Highlights? There was Emma Stone making fun of Ben Stiller's previous over-the-top stints as presenter. There was Will Ferrell and Zach Galifianakis in white tails and cymbals. Also Robert Downey Jr with his documentary film crew onstage. And the Cirque du Soleil number was pretty spectacular.
As for our Oscar race, it seemed to be a fairly evenly-matched contest, with lots of us neck-and-neck until the very end. After the first four envelopes Anna, Emily, Gary, Grandma, Marsha, and Ryan were all tied for the lead. After four more, Marsha was in the lead by one, with Anna, Emily, Grandma, John, Ryan and Tristen fighting for 2nd place. Four more envelopes and at the end of 12 it was John and Marsha tied for lead, with Anna, Gary, Karen and Ryan right behind.
On the 14th envelope, Teghan got her one and only pick of the night when "Man or Muppet" won Best Song. It just wasn't your night, Teghan -- better luck next year!
With the 20th envelope, for Best Director, Anna was making her move: She now was in a tie for first with Marsha, with only Gary and John fighting for 2nd place.
The final three awards were for Best Actor, Actress, and Picture, and Anna nailed all three leaving everyone else behind. Congrats to first-time winner Anna!
She also triumphed in picking the top six "in the box" awards (Picture, Director, Actor, Actress and Supporting Actor/Actress) by picking four correctly (as did Marsha).
Our 17-and-under crowd is less crowded these days. Tristen and Teghan battled for the trophy, but in the end Tristen -- for the second year in a row -- took Oscar home. So for the third consecutive year, Oscar will be splitting his time between Lincoln and Minneapolis.
It was another excellent Oscar race. Thanks to everybody who played along this year. See you next year!

(Number of correct picks out of 24 categories)

11  Anna
10  John
10  Marsha
 9  Gary
 8  Amanda
 7  Tristen
 6  Donna
 6  Emily
 6  Karen
 6  Ryan
 5  Grandma
 3  Erika
 3  Samantha
 2  Brent
 1  Teghan

And totaling all the results of the past fifteen years, here are the standings, in order of percentage of correct picks:

53%   Gary       179 right out of 340
52%   John       178 right out of 340
49%   Marsha     166 right out of 340
47%   Donna      161 right out of 340
43%   Grandma    147 right out of 340
42%   Zachary     36 right out of  86
40%   Amanda     137 right out of 340
38%   Lori        56 right out of 148
37%   Paul        82 right out of 220
36%   Samantha   123 right out of 340
36%   Anna        99 right out of 278
35%   Karen      119 right out of 340
35%   Ryan        95 right out of 269
34%   Lindsey     90 right out of 267
31%   Emily      106 right out of 340
25%   Olivia      47 right out of 190
25%   Brent       30 right out of 120
25%   Sean        12 right out of  48
23%   Erika       76 right out of 325
23%   Tristen     59 right out of 262
17%   Teghan      24 right out of 145

---