Oscar results -- February, 2008
Best Picture: "No Country for Old Men"
---
Winners: John and Erika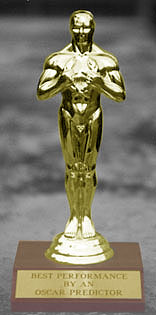 Well, another great contest with a close close finish.
Big crowd at Grandma's house for the annual Oscar viewing: Ryan, Amanda, Tristen, and Teghan were there, as were Sean, Lindsey, Olivia, and Donna. Some Valentinos pizza and that's a party! Sean and Lindsey handed in their better-late-than-never ballots just minutes before the show started.
With the first envelope, Amanda, Gary, Grandma, and Ryan took the lead early. All would fade before the night was over, however -- some sooner than others. With the second envelope, "Ratatouille" won best animated feature, which everyone picked -- except Sean, that is.
A word about Sean's choices: In filling out his sheet, he neglected to turn it over, thereby missing about half the categories. And sadly, his choices on the front of the sheet achieved the same level of accuracy. Which is to say, he missed them all. Better luck next year, Sean -- don't work so hard and watch a few movies!
After 6 envelopes, Grandma looked like the favorite: She had correctly picked 5 of them. (I didn't think it was necessary for her to laugh when I announced my own score of 3 at that point, but that's what happened.) In the under 18 crowd, Erika and Tristen were tied with 3 each. Over the next several categories, John and Samantha and Marsha began to move to the head of the pack but Grandma's lead was still comfortable.
The 13th envelope was a major category -- Best Actress -- and Teghan revealed her deep knowledge of French cinema by being the only one who correctly predicted Marion Cotillard ("La Vie en Rose"). Good for you, Teghan! She consulted the Magic 8-Ball several times through the night, so her confidence was high as Signs Point to Yes.
After four more categories, the wind began to leave Grandma's sails. John and Samantha tied her with 9 all, and then pulled ahead of her on the next. Three more envelopes and it was all over, mathematically: Marsha had tied Grandma at 10, and John and Samantha were ahead with 13. And Erika too was now unbeatable in her category. So the two final envelopes merely put the icing on their victory cake. The three top scores -- John, Samantha, and Marsha -- were all in Minnesota.
What about the John/Sam tie at 15 each? Well, John slam-dunked it at the buzzer by nailing both tie-breakers. (Presenters wearing glasses? John correctly predicted 3, Sam said 2. How many absent nominees? John correctly predicted zero, Sam said 1.) And of the top six awards (Picture, Director, Actor, Actress, Supporting Actor and Actress), John made five correct picks.
So Oscar will spend six months under Erika's care (where perhaps he will acquire another suit of clothes...?), and six months on John's trophy shelf. Congratulations to you both!
Thanks to everybody who played along this year. See you next year!

(Number of correct picks out of 24 categories)
15  John
15  Samantha
12  Marsha
11  Grandma
10  Donna
10  Gary
 9  Lindsey
 8  Amanda
 7  Emily
 7  Erika
 7  Ryan
 6  Karen
 5  Anna
 4  Olivia
 4  Teghan
 4  Tristen

And totalling all the results of the past eleven years, here are the standings, in order of percentage of correct picks:

54%   Gary       133 right out of 244
51%   Donna      124 right out of 244
49%   John       120 right out of 244
48%   Marsha     118 right out of 244
45%   Amanda     109 right out of 244
44%   Grandma    108 right out of 244
42%   Zachary     36 right out of  86
38%   Samantha    93 right out of 244
38%   Lori        56 right out of 148
37%   Karen       91 right out of 244
37%   Paul        82 right out of 220
35%   Ryan        77 right out of 220
34%   Lindsey     83 right out of 244
33%   Anna        60 right out of 182
30%   Emily       73 right out of 244
30%   Brent       28 right out of  95
25%   Sean        12 right out of  48
24%   Erika       56 right out of 229
23%   Olivia      33 right out of 143
21%   Tristen     35 right out of 166
15%   Teghan      11 right out of  72

---