Oscar results -- February, 2004
Best Picture: "Lord of the Rings: Return of the King"
---
Winners: Donna and Lindsey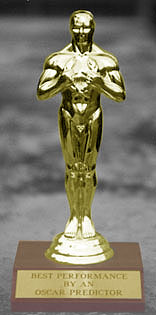 Congratulations to Donna for a close but decisive victory this year, and to Lindsey for winning in the 17-and-under category!
The early fight for the lead was between Amanda, Gary, Grandma, Lindsey, and Zachary; but after the 6th envelope, Donna had caught up and the field had been reduced to four -- Donna, Gary, Grandma, and Lindsey. And the weird thing was, all four were in the same room, watching the show on Grandma's big screen.
It stayed that way for six more categories. When the 12th envelope was opened, Grandma stood alone with 11 correct picks so far. An impressive percentage! Two categories later, however, Grandma dropped back and Gary and Donna were tied for the lead (with Ryan, John, Lindsey, and Lori following close behind).
But it was game over with the next envelope, the "Original Song" category. Donna revealed later she had figured on a LOTR sweep and had chosen LOTR's "Into the West" as Best Original Song. Gary also counted on a strong LOTR showing, but opted for "A Kiss at the End of the Rainbow" from "A Mighty Wind." And that ended that, because Gary and Donna had made the same picks for all the remaining eight categories so it was mathematically impossible for Gary to catch up. So Donna had won her third Oscar victory!
LOTR won all 11 of the Oscars it was nominated for, which tied it with "Titanic" and "Ben-Hur." "Master and Commander" took home two trophies, and "Lost in Translation" got one (Original Screenplay). The Best Actor category surprised everyone (except John and Marsha!) when the award went not to Bill Murray but Sean Penn.
Thanks to everybody who played along this year. See you next year!

(Number of correct picks out of 24 categories)
19   Donna
18   Gary
17   Grandma
17   John
15   Amanda
15   Ryan
13   Lindsey
13   Marsha
13   Paul
12   Sean
11   Anna
10   Lori
10   Zachary
 9   Karen
 8   Emily
 7   Brent
 7   Tristen
 6   Samantha
 6   Olivia
 5   Erika
 2   Teghan

And totalling all the results of the past seven years, here are the standings, in order of percentage of correct picks:

56%     Donna/Gary
51%     John
50%     Sean
49%     Amanda/Marsha
47%     Grandma
44%     Zachary
42%     Lori
40%     Paul
39%     Ryan
34%     Samantha
34%     Karen
33%     Lindsey
33%     Anna
31%     Emily
26%     Brent
24%     Erika
23%     Olivia
20%     Tristen
 8%     Teghan

---