Oscar results -- March, 2003
Best Picture: "Chicago"
---
Winner: Samantha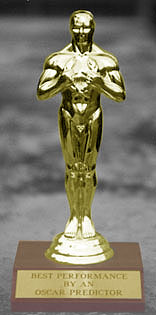 Hey, another fun Oscar night! And for the first time in (our) Oscar history, the trophy was won by someone in the 17-and-under category: Samantha. (Watching all those movies paid off, Sam!) So Oscar stays in Minnesota for another year.
The very first award of the night -- Best Animated Feature -- told the story: The only person to correctly pick the winner was Samantha. So at the end of the first category, the score was Sam: 1, Everybody Else: 0! We could have stopped keeping score right there.... :-)
After six more Oscars had been awarded, the race was tied between Donna and Marsha, both of whom had chosen five out of seven winners -- in the toughest and most obscure categories. Very impressive! And the tie stood for the next four categories, until the 12th Oscar (for Sound) was awarded, and Donna pulled into the lead all alone.
And that's the way it stayed for the next six Oscars, with Donna in the lead followed closely by Amanda, Karen, Marsha, and Samantha.
By picking the winning song for the 19th Oscar, Samantha moved out of the second-place group and tied with Donna. And two categories later, it was Samantha in the lead for the rest of the night -- winning with 12 correct picks out of 24.
Surprises? Best Actor went to Adrian Brody, whom nobody in our group picked. And Best Director went to Roman Polanski, ditto. Ryan made a move on everybody when he was the only one to correctly choose Catherine Zeta-Jones as Best Supporting Actress. Erika was the only one who correctly picked the Original Screenplay, and Karen was the only one to pick the Original Score. The coveted "Irving G. Thalberg Award" -- for making the most correct picks out of the top six categories -- this year goes to Gary with a measly score of 3: Best Picture, Best Actress, and Best Supporting Actor.
The tiebreakers didn't count this year as Samantha won a clear victory, but if Paul had been a contender the tiebreakers would have decided it in his favor as he was the only one to correctly predict there would be one no-show and that 5 acceptance speeches would be cut off by the hurry-up music.
Thanks to everybody who played along this year. See you next year!

(Number of correct picks out of 24 categories)
12   Samantha
11   Amanda
11   Donna
10   Gary
10   John
10   Marsha
 9   Karen
 8   Emily
 8   Ryan
 7   Anna
 7   Grandma
 6   Lindsey
 6   Paul
 5   Erika

And totalling all the results of the past six years, here are the standings, in order of percentage of correct picks:

52%     Gary
52%     Donna
48%     Marsha
48%     John
47%     Amanda
45%     Zachary
42%     Grandma
41%     Lori
37%     Paul
36%     Samantha
35%     Ryan
33%     Karen
31%     Emily
31%     Anna
29%     Lindsey
26%     Erika
22%     Brent
22%     Olivia
17%     Tristen

---