Oscar results -- March, 2002
Best Picture: "A Beautiful Mind"
---
Winners: Marsha/Donna and Emily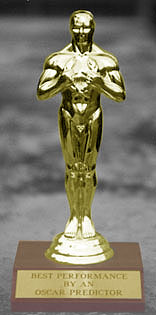 One of the closest races ever, with lots of surprises. The biggest surprise, first off, was the blizzard that hit us during the show here in the southern latitudes.... Eight inches of snow, biggest storm of the season I think. Fortunately everybody got home all right, and the next day was a snow day!
In the Oscar race, the early lead went to Ryan, who picked the first three categories correctly and was in the lead all by himself for the first 45 minutes. Amanda, Paul, Marsha, and Zach caught up with him and for the next two categories it was a five-way tie; and then Ryan and Paul dropped away (so long, guys--thanks for playing!), and two categories later Amanda and Zach dropped away, leaving Marsha all alone in the lead with 6 correct picks out of 8.
But within the next two categories Zachary bounced back and Emily caught up with the leader (she was the ONLY one to pick Jim Broadbent as Best Supporting Actor). So now, almost two hours into the show, it was a three-way tie.
But that changed with the "Original Score" category: Marsha went into the lead all by herself -- and stayed there until the very last category. Emily and Amanda were both only one point behind her the whole time, and Zach, Anna, and Donna all also came within one point of the lead in the last few categories -- but Marsha stayed in front.
So when Tom Hanks came onstage with the "Best Picture" envelope, the count stood at Marsha with 12 correct picks, and Amanda, Donna, Emily, and Zachary with 11 each. Any one of these five was poised for victory! But Donna was the only one of this group who chose "A Beautiful Mind," so when the envelope was opened, we had a tie between Donna and Marsha with 12 picks each.
So AGAIN it came down to the all-important tie-breakers. Marsha's choices were both closer than Donna's, so the Oscar goes to...MARSHA!
In our Under 17 category, congratulations to: Emily! with 11 correct picks. She very nearly won in the "Over 17" category also!
Donna deferred proprietorship of the statuette to Emily, and Emily and Marsha agreed to share it for the year, six months each.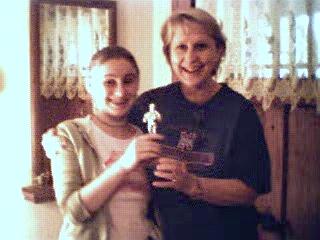 Emily passes the Oscar to Marsha on October 19, 2002.
Thanks to everybody who played along this year. See you next year!

(Number of correct picks out of 24 categories)
12   Marsha
12   Donna
11   Emily
11   Amanda
11   Zachary
10   Anna
10   Gary
9    Paul
9    Samantha
8    Karen
8    Ryan
8    Grandma
7    Lindsey
6    Erika
6    John
3    Tristen

And totalling all the results of the past five years, here are the standings, in order of percentage of correct picks:

55%     Gary
53%     Donna
49%     John
49%     Marsha
47%     Amanda
45%     Zachary
45%     Grandma
42%     Lori
40%     Paul
35%     Ryan
33%     Samantha
32%     Anna
30%     Emily
32%     Karen
30%     Lindsey
27%     Erika
22%     Brent
22%     Olivia
17%     Tristen

---